Thanks to all of you for making Social Media Club of Dallas such a successful networking group. We know many of you often invite co-workers, friends and clients to our events. Our next event is only 2 days away!
Thursday, May 19th we will have two great speakers.
About our Speakers
Christi McNeill
Southwest Airlines
Emerging Media Strategy Specialist
Christi McNeill serves as an online spokesperson for Southwest Airlines, the nation's largest airline interms of domestic Customers boarded. Christi specializes in Emerging and Social Media strategy.
In addition to her online media relations duties, Christi works as the "voice" behind the Southwest Airlines Twitter account (@Southwestair) and Facebook account (Facebook.com/southwest).  Christi also serves as a moderator and blogger on Nuts About Southwest (blogsouthwest.com).  In 2009, Christi was honored with a PR People Award for "Tweeter of the Year."
A Fort Worth native, Christi graduated from Texas Christian University with a Bachelor's Degree in Journalism.
Jamey Peters
Ketchum
Associate Director
James Peters is the Associate Director of Ketchum South and leads the agency's Dallas office.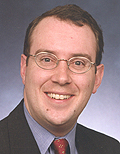 He has 17 years of experience in public relations within agency, corporate and not-for-profit settings.
James specializes in crafting communication strategies, media relations campaigns and media counsel and measurement across a variety of sectors (energy, technology, retail and transportation). He regularly counsels clients on media positioning, media and digital integration, corporate messaging and stakeholder relations.
Current clients include IBM, Celanese, 7-Eleven, Dean Foods and FedEx.
James came to Ketchum in 2004 with 12 years of media relations and corporate communications experience. Previously, He was the manager of corporate communications for global energy company Mirant. In his role, James directed communications regarding Mirant's environmental and CSR efforts. This included the creation of the company's first sustainability report and online CSR initiative.
Prior to Mirant, James was a member of the media relations team of Southern Company's largest subsidiary, Georgia Power, for three years where he led the company's media efforts promoting their involvement in the electric transportation initiatives. Preceding Georgia Power, he worked in the communications department for the American Red Cross.
James holds a Bachelors of Arts degree in History from Wake Forest University and is a 2003 graduate of Georgia Tech's mid-management executive program.
After you register yourself for the event be sure to mark yourself as attending (and invite your colleagues) on Facebook and LinkedIn to help spread the word. After all, we are a "social" media club! See you Thursday!
A special thanks to our sponsors: @HealthStandards @JaredRey @ZoesKitchen@TreatDallas